There are now two options for getting Lifestyle of Learning books:
1) Hard copies of two titles. We have only two titles left of hard copies of Marilyn's books: Making a Homeschool Decision and My Journey in Search for the Way. (Many copies of each, though.)
2) E-Books of many of Marilyn's books, including the remainder of the books needed for my homeschool course. Marilyn and Jim now have several of their books in e-book form ~ for purchase ~ at their new online catalog!!!!!! Here is info on both options:

The few remaining hard copies of the two above-mentioned books by Marilyn Howshall are available toward the bottom of this page of our online catalog. (These two are the 8th and 9th items down on that page.) These two books are not available in e-book form. (You can also click on the purple rose to get there.)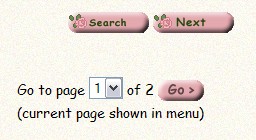 If your browser allows you to view a different number of items at a time (than what mine does), then please note that the books are all in alphabetical order, so if these books do not appear on this page for you, you may need to go to the next page. This is commonly missed, so here's what to look for... Right below the very last item on the page you will see what I have in this box... Next to "Go to page," click on the down-arrow to the right of the number 1, select 2, and then click on the "Go>" button.

To access just the Lifestyle of Learning e-books at the Howshall's online catalog, click on this purple rose. (This will take you out of our website; click your back arrow to return to this page.)

(This rose will take you to our (Homeschool Oasis') full online catalog. All the categories and links are listed in the column along the left side.)