Sharnessa's Updates
List
If you'd like updates on Sharnessa emailed
right to your e-mailbox, you are welcome to subscribe to
"Sharnessa's Updates"
email list. Here's how:
Send a blank message here.

Once (and if) you are already a member of this list, you may access past posts at:

Hosted by
Shortly after you subscribe, you will
be automatically sent a "Welcome Letter."
(You can UNsubscribe quickly and easily at any time;
the simple instructions are at the bottom of every post.)

The ivy and lovely green "scrollies"
background are from: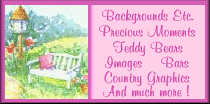 Back to Sharnessa's Page