How to Use This Page...
The basic idea of this page is pretty obvious, but allow me to explain a few things anyway... First, no one will ever need this many home-made dinners in one month. You'll probably go out for dinner a few times, maybe get invited to someone's home, use fast foods a few times (like Kraft macaroni 'n' cheese, frozen fish sticks and tater tots, Hamburger Helper, canned Chinese food, etc.) Plus there are always leftovers to use up. So the idea behind this isn't that you'll actually DO all these dinners in one month! Rather it's to help a young lady "equip" herself with this many dinners that she is able to make from start to finish, and can also do completely on her own. I feel it's important to be able to do the entire meal alone because managing and cooking a meal on one's own is quite a skill of its own, separate from knowing how to cook each individual dish. I remember Laura, in the Little House book, saying she discovered that it was quite different cooking a whole meal on her own from just helping Ma. I was actually a little surprised that Ma, with all her wisdom and being a teacher, hadn't taught that aspect to Laura. Well, the good side of it is that now there's ONE thing I thought of that Ma didn't!

Let's go through each column:
Main Dish ~ Yes, I know I said "Month" of dinners, but 31 didn't come out even for the other

columns involved, and besides, I thought of one more main dish I just couldn't leave out. Thus we have 32 and not 31 days worth of dinners.
Side Dish ~ We don't need to know how to make nearly as many side dishes, so that's why this column has room for only half as many items.
Veggie ~ We actually only do three main vegetables (fresh steamed broccoli being our favorite), but there are basically eight I want her to know how to do. See Carlianne's Month-of-Dinners Chart for all of them.
Accompaniment ~ These are things like Jello salads, rolls, muffins, breads,

and a few others. Again, see Carlianne's Month-of-Dinners Chart for the whole list of the ones she's learning how to make.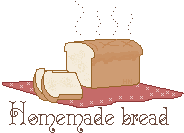 (Click on the bread above to go to a really neat article by this title.
Then click on your BACK button to return here.)