WORKSHOP
SMORGASBORD
~ for Barb (& Dave) Shelton ~
These are the workshops you may choose from if having me speak at a convention OR if you're having me do a one-or-two-day seminar (like with just me speaking the whole time). I would like to work with you on which ones I'd actually do, depending on how many hours you want me to speak and the needs of your particular group.
At a convention, I basically need to be speaking throughout most of the day, 3 workshops minimum; more if your event has more. This is to make the most of my time there. If we're all going to go to the trouble of getting me there, we may as well get the most out of me! It is actually a very poor use of my time to just sit in my booth as I'm not primarily a vendor. I have books to sell only because I have a message to share. I can either talk with 2 or 3 people in an hour, or with a whole roomful; since we have all paid a high price for us to be here, I may as well make the most of my time with you.

But first, a couple of comments
about my speaking...
For some of my workshops I have to rely on my notes a lot. For others I use only an outline and just talk off the top of my head. But unfortunately there is only so much "disk space" available in that "top" region of my brain. After hearing me speak on "Homeschooling and Legalities" for which I have to use my notes a lot (more than I like), one homeschool mom said this to me...
"God has given you such a gift; your seminar was AWESOME!!!! Your conviction for homeschooling was evident by the passion in your voice! Even though you read the facts off your paper, it was a perfect blend of facts woven with humor, spirituality and lots of personality! You also exude confidence, which I think is especially important for us homeschooling families to hear, being that we are going against the norm."

So, that said, here are...

Barb's Workshops



"The Heart of True Education"
(For parents with children of ALL ages.)
(1 hour)
The heart of my message, this workshop helps homeschooling parents who are either burning out (after having homeschooled for a few or even many years) and for rookies just starting out. We cannot experience all God has for us until we are willing to focus on HIS priorities and HIS way of approaching education. Concerned with "doing it right" and "avoiding gaps," we typically strive to emulate the traditional school system, never pausing to consider that the school system as we know it was not God's idea, but man's, and as such, is not producing the godly fruit we so desire in our children. This workshop is guaranteed to:
A - Ruffle your feathers,
B - Make you downright angry,
C - Open your eyes (more),
D - Give you hope, freedom, and direction,
...and (not *or*)...
E - All of the above!
Before you go one more inch on your path of homeschooling, make sure you are headed in the right direction! And because the primary purpose of true education is "preparing us for the works God has prepared beforehand that we may walk in them," what's "right and best" will be different for each family and each child. A generic, one-size-fits-all, cookie-cutter education does not, indeed, fit all! Broadening your view of "education" and getting a scriptural "God' eye view" of it is essential to making homeschooling all that it can be! You will save yourself hundreds of dollars in unused, misused or overused curriculum, and years of frustration! Too many people find out too late that they were on the wrong path! You have only ONE chance with your kids. God is a redeeming God (the theme of my LIFE!), but He doesn't time-warp us back to the infant stage to start over. We need to be seeking the heart and mind of God on this NOW. (Email me for a shorter version of this for your flyer.)



"Beauty for Ashes: Redeemed!"
(For parents with children of ALL ages.)
(1 hour)
Let's pull the spiritual cobwebs off the word "redeem" and get it actively working in our lives on a regular basis! What does this word really mean? WHAT all can God redeem? HOW does He do this? How do we know what HE does and what WE do? In this workshop you'll find out why this word is one of Barb's "Top 5 Favorite Words of All Time," what God has redeemed in her and her husband Dave's 28-year marriage (they will share a "sweetened condensed" version of their testimony, which includes a six-month separation several years ago), and how to get this wonderful and powerful word working in YOUR life ~ in whatever areas are in need of God's REDEEMING power! Two "short but sweet" verses that have carried Barb through many dark valleys are: "Nothing is too difficult for Me [to redeem]!" and "My power [to redeem] shows up best in weak people."

"Preparing Heart 'n' Soul 'n' Guts NOW
to Homeschool to the END!!!"
(1 hour)
(For parents with children of ALL ages.)
(Previously called:
"Deleting the Fears from the High School Years"
and
"The High School Years:
Preparing Heart 'n' Soul 'n' Guts"
and
"Out of Fear & Burnout - Part II)
(The Heart of True Education" (formerly "Out of Fear & Burnout ~ Part I) is the foundation to this workshop! It does "stand alone," but the complete picture is presented in both together.)
Does the thought of homeschooling through high school give you the shivers every time you think of it? Whether high school is still several years away or you're already DOing it, you don't have to continue to be plagued by fear any longer! Deal with the myths, intimidations and misperceptions head-on, and once and for all! It takes some time to go through this process, so do yourself a favor and get thinking about it EARLY ON. The focus for this workshop is high school concerns ~ which are best to get OUT of the way as early on as possible ~ we will NOT be focusing on "high school how-to's." It is the fears at this level that are delved into, like the diploma issue, can I do this, will my child be missing out. With these fears dealt with (a clean swift "death blow") you will be free to approach high school with vision and confidence!



"High School Organizing,
Record-Keeping & Frameworks"
(1 hour)
Here's HELP for ORGANIZING your high school experience, customizing it to fit YOUR teen(s)! You will find out how to determine what kind of a framework to choose for high school that fits your and your student's needs, priorities, and styles! Plus how to organize and document ALL your student's learning experiences, including traditional, natural, non-traditional, real-life learning!



"Creating High School Classes"
(1 hour)
How to pull together all your student's learning experiences, from traditional to natural to lessons (like music) to sports to life experience ~ and certainly any combination thereof ~ and turn them into wonderful classes. Many ideas for what to do for many learning experiences too.

"


Hearing God 101"
~and~
"A Season of Re-education"
(or "Homeschooling YourSELF First ~
or at Least at the Same Time")
(1 hour)
(For parents with children of ALL ages.)
Before attempting to educate our children, we the parents must find out what true education is ourselves. This is not something we can discover in one short workshop session, but that takes a focused "season," as the Lord leads, for the whole picture to unfold. The culture we live in has strayed far from God's idea of how to approach education. It lays a burden on us that is heavy, a yoke that is anything but easy. So we need to "de-brief" from the world's idea ~ which requires some "doing" ~ in the form of a "season of re-education." At the heart of this season is learning how to hear God, one of our most basic yet most unaccessed privileges of being a Christian! You will thus (and ONLY thus) save yourself much heartache, stress, and conflict with your children. You may *think* you don't have time for such a season; I suggest you don't have time to *not* put yourself through such a season! ("The What's and Why's and How's of True Education" is foundational to this workshop.)

"Real-Life Homeschool Learning &
Organizing Tools for Younger Children"
(For parents of children ages 4ish thru 12ish)
(1 hour)
How to set up a flexible lesson plan based on a healthy weaving of your child's real life experiences with their academic needs, and then how to "dish it out." Ten different reasons to keep records and how to determine which ones YOU do and don't need! Plus lots more practical helps and forms to get and keep your home and homeschool in order, your day running smoothly, your stuff (including kids' jobs) organized. (For parents with children from "tiny tots" up through middle school age; not high school.)



"Purity & Integrity in Romance & Relationships"
(For parents of ALL children, and their teens)
(1 hour)
In this workshop, Barb shares the "heart 'n' soul" of this message; not a format or formula, but the *heart* issues involved. We do not promote or unpromote "courtship," "betrothal" or any approach; we simply want to get kids and parents to see the need for getting God's heart on this matter and attain to simple purity and integrity ~ and wisdom ~ in how they approach relationships with the opposite s_x*.

"God vs. Caesar:
Obeying the Governing Authorities"
(1 hour)
(If time allows, 1-1/2 hours is nice ~ to accommodate
the inevitable questions that will arise.)
(For parents with children of all ages)
For the most part, the church today has a superficial and often incorrect perspective on "obeying the governing authorities." With our culture moving in the direction it is ~ away from God ~ it is vital that we gain a correct view of it as anything but God's perspective will ultimately lead us away from peace and walking in His perfect will for us. Many of our freedoms are being eroded away, people right in our own "land of the free" have been put in jail for homeschooling. But the "bottom line" is not freedom or jail, but what would God have us do? We must act out of "conviction", not merely "preference." This workshop will help you get to that place by revealing the underlying issues and what God's Word has to say about them.


"Heart-Helps & How-to's for a Healthy & Fit Mom"
(For all ladies!!)
(Time is flexible - at least 1/2 hour)
Ladies, do you want to live to not only see your grandchildren, but to be able to walk up the aisle at their wedding, and able to play and help with them?!?! As homeschooling moms, it is sooooo easy to disregard care of our own selves as we tend to the many and constant demands that life ~ kids, marriage, ministry ~ bring our way. As one who has been overweight most of her life, I speak from not only experience, but humility and compassion, as I gently encourage you to get God's heart for taking (better) care of yourself, including getting those extra pounds that are literally weighing you down, and exercising! Plus I include hands-on, feet-on, and heart-on help for doing so!!!!!!!!!!
~

~

~

~

~

~
DAVE & BARB'S

JOINT

WORKSHOP



"Our Story"
(Available only as we feel
the Lord is leading us to share it.)
(1 hour)
(1-1/4 to 1-1/2 hours is actually better,
but 1 hour works.)
In this one-hour session Dave and I share "our story." It is not so much a "workshop" as it is a testimony of God's amazing power to work, even when He has only extremely imperfect clay to work with, and even when the clay does NOT want to be worked with! W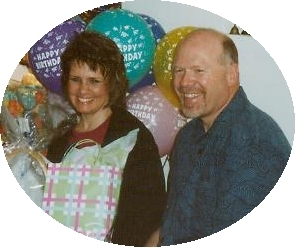 e have now been married for 26 years (as of fall 2001), but ours is NOT a "they married and then lived happily ever after" story. Of course, very few seem to have stories of that nature. Several years ago we came very close to divorce, even being separated for six months. Our story is not simple, not easy to hear, nor will what happened with us be true for ~ or work with ~ other couples in similar (sinking) boats. But we KNOW that nothing is impossible with God!!!!!!!! And we love to tell what He did to save our marriage from the brink of hell, and redeem it to the point of not being able to recognize it from our earlier years. Some will come away with renewed hope for their own situations, others will have further insight for how to keep their marriages from drifting into the "danger zone," and others will come away simply saying "Wow!!! GOD IS AMAZING!!!" And, of course, you will know "us" a little (lot) better in the process. (The picture is of Dave and me at my 50th Birthday Party in 2002.)
Here's what Amy Beckel, friend and co-minister with Barb, had to say about it:
"Barb and Dave's Story" (which I've been blessed to hear parts of) is VERY powerful and I can easily understand how it ministers to MANY!! It's obvious to see that it is "God's Story" in their lives. Thank you for sharing, Barb, and for making yourself so vulnerable (that can be scary!) for God's sake and for the hearts of your listeners. You've encouraged me in so many ways. Definitely have Kleenex available if you listen to this tape."

And here is a precious email from a mom who, for obvious reasons, prefers to remain anonymous:
"My husband and I have had a rocky 15 years: victories and defeats. We are in a terrible place right now, and, but for the knowledge of Christ's love and power, I would lie down in exhaustion and pain. I was shocked, when I heard in your tape that your marriage had gone through this. I always mistakenly assume that you wonderfully gifted homeschoolers have husbands that are "near perfect" supporters. I am a homeschooler that strives too much on my own. I am learning much from you and finally allowing the Lord to lead completely."

NOTE: We are not always open to doing this workshop,
(at every conference), but it IS on tape now, if you'd like to hear it.
Click here to go to the catalog write-up on Our Story.

* I have deleted the "e" from the word "s_x" because certain servers, in an attempt to keep web surfing safe and pure for their customers, block any web pages ~ even entire sites ~ from being accessed if they contain "that word." My web site is hardly one for Christian families wanting to deepen their walks with God or help their children purify their relationships to be banned from!